Welcome back to my Haus of Travel!
I Left my heart in 5 restaurants in San Francisco, and I'm here to give you the deets!
I honestly had NO CLUE what to expect when it came to drinks and food in San Franscico. There are so many places to try out! I went for two days and found 5 insta-worthy places to enjoy your time. The key for me was to use yelp and ask the locals. I was happy with the direction they gave me.
1000 Guerrero St., San Francisco, CA 94110 (415) 654-5270
This is a new hot and upcoming brunch spot in the historical mission district. This brunch-focused restaurant is a new establishment by Sang Hyuk Lee, who also owns Mymy. Plain Jane is anything but plain as it displays an array of breakfast favorites that is filled with flavor and authenticity. The menu has a friendly reminder that menu medications are "politely declined."I loved their attention to detail and food presentation. Enjoy traditional brunch food with a twist, and beverages such as bloody Mary's, Mimosas (grapefruit, orange, mango), coffee, espresso, beer, and matcha drinks.
I enjoyed the "Chorizo & Juicy Tomato Scramble". It was packed with garlic chorizo, eggs, tomatoes, pepper jack cheese, cilantro, onions, corn tortilla, chipotle aioli, and avocado. I devoured it quite quickly it was so yummy!
For those who love spice and everything nice, there's an added touch with a roasted jalepeno on the side. My sweet dish was called " Cannoli French Toast Roll Up." It was filled with rich ricotta chocolate filling, berries with maple syrup on the side. It had a perfect crips to it, and just the right texture.
Hours of Operation (Hours subject to change due to COVID): Monday-Friday 8:00 am – 2:30 pm
19th Floor, 999 California St., San Francisco, CA 94108, (415) 392-3434
If you want to live the fancy life and see 360 degree views of the city, I recommend you come to this iconic high-end cocktail bar & sky lounge located on top of the Intercontinental Mark Hopkins Hotel. I thought I took a time machine back to the 1930s as I walked through the door. Looking up there was a beautiful design of large chandeliers. It brought an art deco dreamy aesthetic.
This has always been the place to go to in San Franscisco since it opened its doors in 1939. From World War II servicemen, celebrities and dignitaries, Top of the Mark has kept its tower standing out from the crowd for decades. There is also a mini museum on the 1st floor to learn more about the hotel. Truly a hidden gem with rich history. Come out for a night cap, or come during sundown to enjoy a wide selection of cocktails and live entertainment (a few nights a week). They only take reservations for Sunday brunch.
Hours of Operation (subject to change due to COVID):
Sunday
Brunch 10:00 am – 1:00 pm
Cocktails: 4:30 pm – 10:00 pm
Small Bites: 5:00 pm – 10:00 pm
Monday – Thursday
Cocktails: 4:30 pm – 11:30 pm
Small Bites: 5:00 pm – 10:00 pm
Friday – Saturday
Cocktails: 4:30 pm – 12:30 am
Small Bites: 5:00 pm – 10:00 pm
401 Taylor St. San Francisco, CA 94102 (415) 775-7979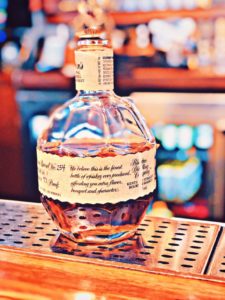 Jaspers is part of Hotel Spero, and they serve breakfast lunch and dinner. The bartender recommended a single barrel bourbon whiskey I cannot find in other bars! It's called Blanton. It's only made in Kentucky A.K.A. "The Bourbon capital in the world." It has a great taste with a smooth finish.
Hours of Operation (Subject to change due to COVID): Monday-Friday 6:30 am – 12:00 am | Friday-Saturday 6:30 am – 1:00 pm.
904 Valencia St., San Francisco, CA 94110 (415) 590-3144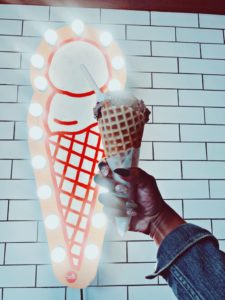 Have you seen ice cream in its purest form? You'll fall in love with Robyn Sue Fisher's prototype Brrrmachine! It churns ice cream made freshly just for you! I was staring at this store from the outside for a while as I loved the playfulness and vibe it was sending to the Mission neighborhood. This is the new age for ice cream with this invented machine. At this location you will find their original Brrr machine, Radio Flyer wagon, and the original Brrr battery pack buried into the floor (you'll have to see it to believe it!).
I got to taste a variety of samples and I savored every bite of it. I decided to go with my classic fav: chocolate withe sprinkles! They have seasonal flavors and only a few locations, so make sure you go every single time you visit San Franscisco (and its other locations in Oakland, San Jose, El Segundo, Hayes Valley and Pacific Heights of San Francisco).
Emporio Rulli Il Caffe, 225 Stockton Street @ Post Street

You can find yourself parched walking around and sightseeing, especially during a sunny day. I decided to stop here for macarons and a glass of wine. I found it to be my oasis. I thought I saw a mirage when I noticed you can have wine out in the open courtyard. For some reason I thought there would be rules of staying near the bakery with alcohol. I found this to be a great place to people watch and visit artist vendors in the middle of the courtyard.

Hours of Operation: Daily 7am-7pm

Out of these 5, which one will you be trying first?

5 Insta-Worthy Places To Wine & Dine in San Francisco. I Left my heart in 5 restaurants in San Francisco, and I'm here to give you the deets!